Integrated identification services
Identify signers using advanced identity verification methods. Before signing of a document, you will receive additional confirmation of the compliance of the contractor's data with the expected details.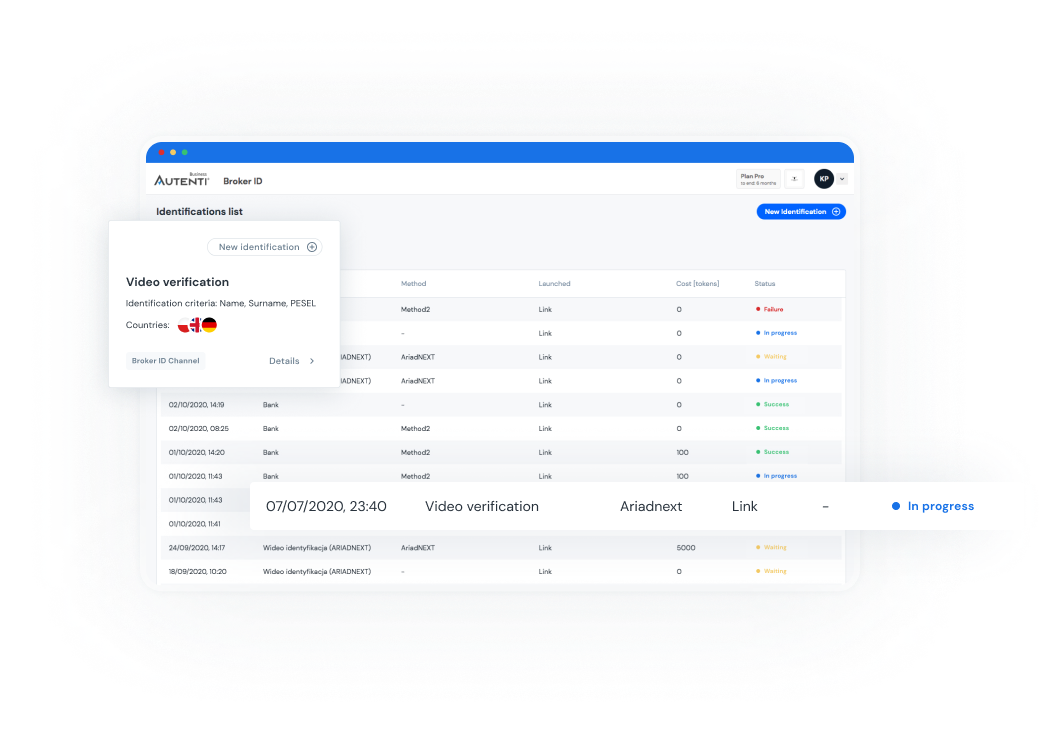 What is this functionality for?
Increase the security of contracts concluded online. Use advanced signers identification services directly via the Autenti platform. Indicate the signers to be identified by video verification in several possible options.
Your benefits
Confirm the identity of

signer

on the Autenti platform.

Nullify the risk of concluding contracts remotely.

Guarantee the security of the most demanding business processes.

Choose additional options of identification if the above is not enough - such as electronic banking or using a qualified electronic signature.
How does it work?
To view how signers identity verification methods work, visit the BROKER.ID website.
These

functionalities

may

interest

you

:
ACCESS TO THE DOCUMENTS VIA API
Documents are sent and signed directly through your ERP system using the Autenti open API. You automate and adjust the processes to match the customer's requirements, completely eliminating document print out.
E-SIGNATURE VALIDATION
Verify the integrity and authenticity of a document. Be certain that a document has not been falsified or changed in an unauthorized way. At the end of the process, download the ValidationAttestation - a detailed report containing information about the verification result.
Start signing documents without
leaving your home for
free
one platform, many applications
all forms of electronic signatures
economy, speed and comfort
customer satisfaction guarantee