E-signature Validator
Verify the integrity and authenticity of a document. Be certain that a document has not been falsified or changed in an unauthorized way. At the end of the process, download the Validation Attestation - a detailed report containing information about the verification result.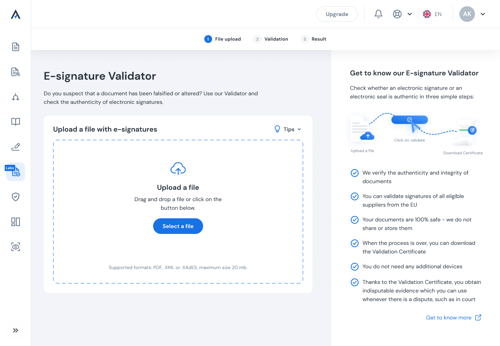 What purpose does this function serve?
The e-signature validator allows you to check the authenticity of electronic signatures and seals in just a few simple steps.
What signatures do we verify?
Qualified signatures

Polish trusted signature

Polish personal signature

Electronic seals

Signatures submitted on the Autenti platform
Supported signature types:

Your benefits
Validate the authenticity and integrity of documents in seconds.

Our tool meets all the requirements of the European Union regulation.

How does it work?
1. We verify the authenticity and integrity of documents.
2. You can validate signatures from all qualified suppliers from the entire EU.
3. Your documents are 100% secure.
4. After finishing each process, you can download the Validation Attestation.
5. There is no need for any additional devices.
6. Thanks to the Validation Attestation, you possess indisputable evidence for disputes, e.g. in court.


These functionalities may interest you:
Start signing documents without
leaving your home for
free
one platform, many applications
all forms of electronic signatures
economy, speed and comfort
customer satisfaction guarantee