Small and medium-sized companies
An electronic signature tailored to your business
finalise contracts in less than 15 minutes

control the signing process

organise your team's work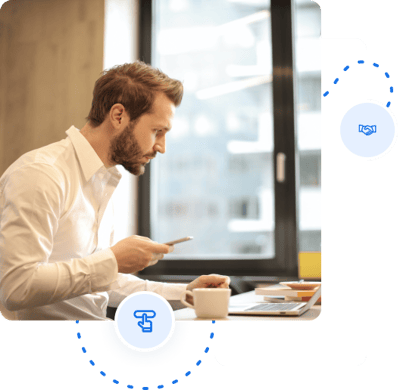 They have trusted us
Meet the SME companies that have set their sights on digitising their business with Autenti!





Streamline document signing
Choose a simple solution, tested by hundreds of companies, that will make your business more convenient and efficient than ever.
Sign online, wherever you are
In the office, on your way to work, while stuck in traffic. With Autenti you can sign any document in less than 15 minutes, wherever you are, conveniently, in the mobile app or from any other device with Internet access, 24/7.
Cooperate with your team
Discover a whole new quality of cooperation, even at a distance. Organise the work of your team and increase its efficiency – assign roles, give permissions, share documents.
Ensure a good customer experience
Take care of your customers and counterparties. Surprise them with the positive experience of signing contracts online. Show them how easy it is! No account creation, no fees, but with the full support of the Autenti team.
Choose security
We provide the highest security, data confidentiality and legal power across the EU. We are a trusted third party, guaranteeing independent evidence of the signing process.
Sign on to the Autenti platform and keep your business under control

When a customer or a counterparty signs a contract, you receive an automatic notification. If they do not sign on time, you can send them a reminder with one click. You have full control over what happens to your documents, you can finalise contracts faster and effectively eliminate payment delays.


Why us?
Find out why you should trust the e-signature solutions from Autenti.
Not just an electronic signature
Autenti is a whole ecosystem of trust services that will streamline your business. With us you can sign a document, confirm its authenticity, verify the identity of a business partner, use an electronic seal – all this in one place.
Sign in a convenient application
The Autenti mobile application allows you to send and sign documents from literally anywhere in the world, and handy push notifications let you know that the next contract has already been signed.
You have complete support
Our team will help you choose the best solutions for your business. We are there for you at every stage. The rules are simple: you have a problem – we solve it!
3,500 small and medium-sized enterprises have fallen in love with Autenti!
Get to know some of their stories.
Here's what our clients have to say
We value Autenti for reducing our business risks. We sign contracts faster than the competition and thus start new projects more efficiently. Autenti's convenience is also of great importance for our recruitment processes, which we carry out 100% remotely. Additionally, we can integrate with other services thanks to API access. For us, as a technology company, this is of particular importance."
Using the Autenti services has not only significantly improved the sales process, but also provided real operational improvements in Rachuneo's operations. Many customers are convinced by the possibility of concluding a contract from home. In the current situation, digital contracts are an added value. Using them is now an integral part of our daily business."
Frequently asked questions
How do you start using Autenti?
To start using Autenti, create a free account or see our offer. If you need help, contact our consultants who will help you choose the best e-signature solution, taking into account the individual needs of your company. It is free of charge and non-binding! Write to us at: sales@autenti.com
Can I use Autenti for free?
Use Autenti for free during the 14-day trial period. During this time, you can send up to 10 documents for signing and use a number of different features. Get started and create an account. After this period, you can use Autenti for free, but with some limitations.
Is Autenti suitable for my company?
Of course! Thousands of companies from various sectors and industries use Autenti and achieve measurable benefits for their business. However, if you have any doubts, need help in choosing solutions or want to talk about what your company can gain by using Autenti, we will be happy to help. Contact us by writing to: sales@autenti.com
On what devices can I use Autenti?
You can use the Autenti platform on any device which has access to the Internet, both desktop and mobile, on any operating system of your choice. It works uninterrupted, whenever you need it!
What are the technical requirements to use Autenti?
Autenti works properly only on browsers that have appropriate security mechanisms and are therefore completely safe for the user.
We recommend using the latest versions of browsers that have manufacturer support and constant updates: Chrome, Safari, Firefox, Opera and Edge. The expiry date of support for a given version can be checked on the manufacturer's website, in the 'End of Life Cycle' tab.
Please note that Autenti may not work or may work incorrectly on browser versions other than those specified.
What documents can I sign using Autenti?
On the Autenti platform, you can sign most documents and contracts which will be legally binding. Check the detailed catalogue of the most common documents in companies, together with information on how to sign them electronically.
Accelerate the document signing process with Autenti
finalise contracts in 15 minutes
maintain control over the signing process
organise your team's work