Account user roles
When you add a user to your corporate account, you define their role. This grants certain access in the processes of administering the organization's account and managing the circulation of documents.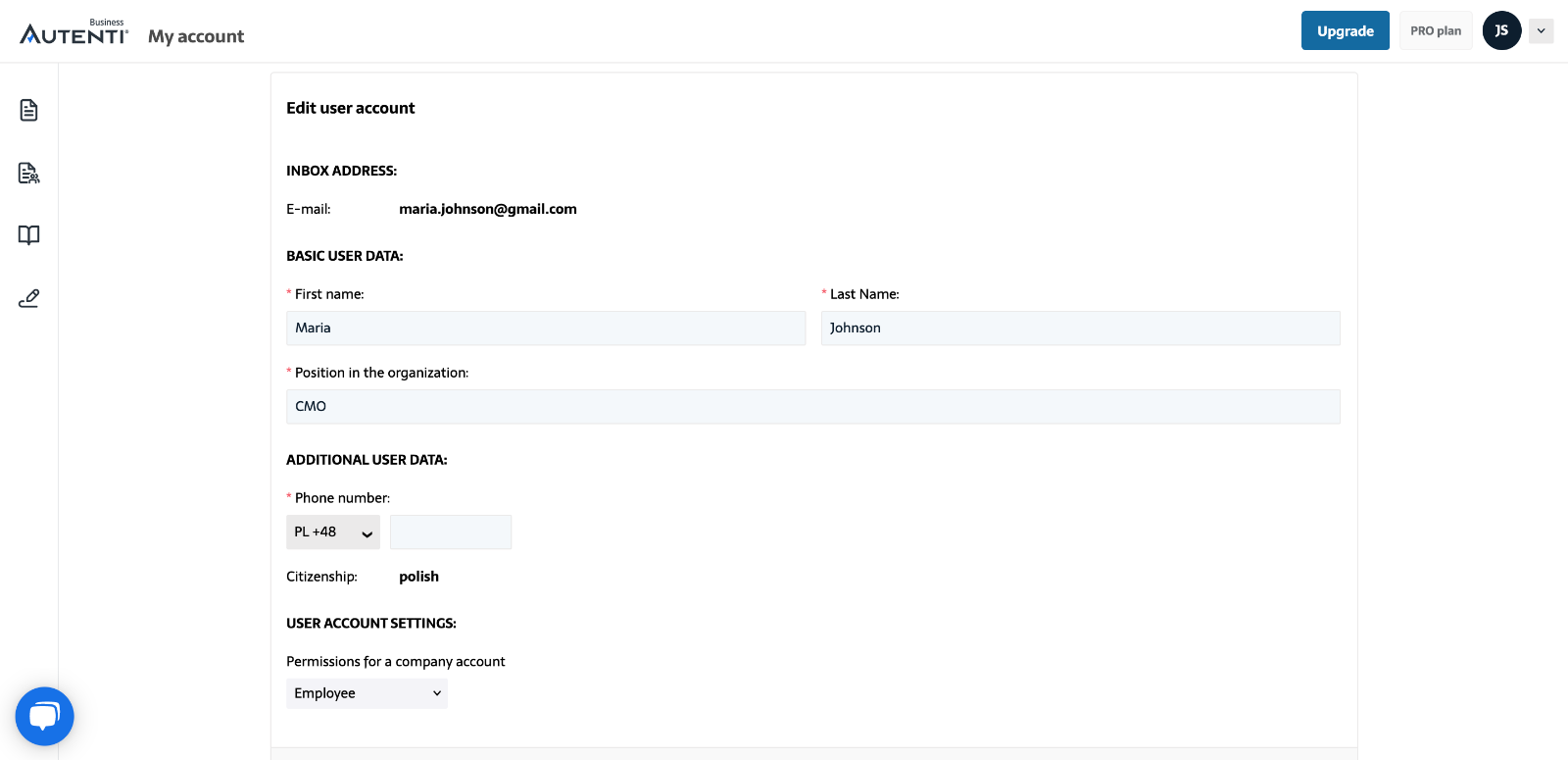 What is this functionality for?
Define the roles of the users of your company account. You are offered three choices: Super Administrator, Administrator, and User.
Your benefits
Control the processes of electronic signing of documents within your company.
Assign proper roles in the signing process to your employees.
The higher the role, the more permissions are granted, including access to all users of the corporate account, their roles, or account validity periods.
How does it work?
See the detailed description of the roles:
SUPER ADMINISTRATOR
Manages the corporate account and its users as well as account settings and assigns roles to members of the organization. Sends documents, has a preview of their status, and performs operations on documents. Importantly, the Super Administrator can purchase accounts for themselves and other members of the company.
ADMINISTRATOR
Adds, removes and edits users of the User account type. Can edit the organization's account details, has a view of the organization's data, and manages its account settings. As part of this role, it is possible to send and perform operations on documents and to view their status.
EMPLOYEE
Can view other users belonging to the organization; may manage their own account passwords and application language. As part of this role, it is possible to send or view the status of and operate on documents.
These

functionalities

may

interest

you

:
VIEWING DOCUMENTS BY TEAMS
Share selected or all documents for viewing by the members of your team. You can create subgroups and assign them appropriate authorisations to increase the recipients' safety and convenience.
SHARED DOCUMENT LABELS
Categorise documents by assigning selected labels to them. Thanks to this, only selected people or departments in your company have access to them, even when they are not involved in the signing process.
DOCUMENT TRANSMISSION
Hand over the document to another person to sign as part of your company account. After selecting a new addressee, the signing process continues and all recipients are informed about it.
Start signing documents without
leaving your home for
free
one platform, many applications
all forms of electronic signatures
economy, speed and comfort
customer satisfaction guarantee