On any device with internet access
Smartphone, tablet, or laptop - it doesn't matter. Choose any device with Internet access to send and sign documents.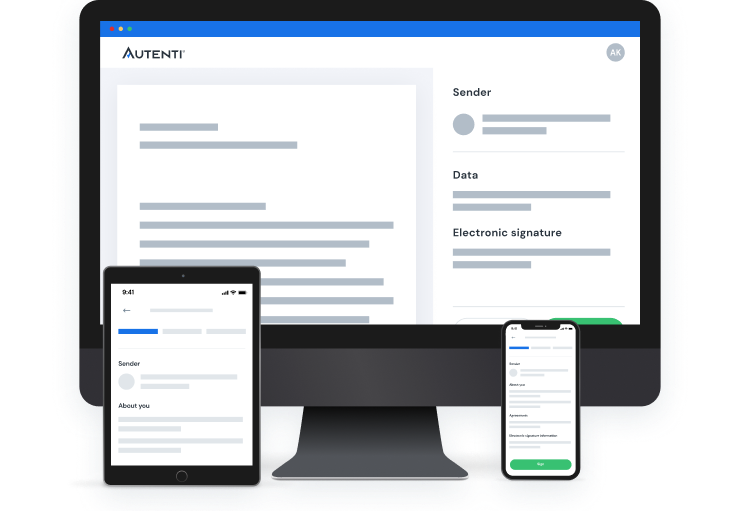 What is this functionality for?
Autenti's secure document cloud will allow you to manage your documents from anywhere around the world. All you need is internet access. Send, sign, approve, review. In short, work no matter where you are and take your business to the next level. You can work using your smartphone, tablet or computer from anywhere in the world, without any restrictions.
Your benefits
Sign documents via phone, tablet, or laptop.

Control the signing progress - spend the saved money and time on developing your business.

Run your business no matter where you are.
How does it work?
The Autenti platform works like a website in the SaaS ("Software as a Service") model. This allows us to offer you our services wherever you are. All you need to do is log in to your Autenti account and immediately gain access to all your documents and sending processes. No software or additional hardware is needed.
You can also have access to the platform via the mobile application for Android and iOS. They allow you to work offline and, thus, access documents even when you are not connected to the Internet.
Frequently Asked Questions
Is the Autenti platform available on mobile devices?
Yes! Our platform works on all devices with internet access, including tablets and smartphones.
Can I be logged in on several devices at the same time?
Yes. You can be logged in on more than one device.
Is Autenti a mobile application?
No. The Autenti platform works from the level of a web browser. You don't need to install anything.
These

functionalities

may

interest

you

:
Start signing documents without
leaving your home for
free
one platform, many applications
all forms of electronic signatures
economy, speed and comfort
customer satisfaction guarantee