Short-term qualified electronic signature
If you only intend to use a qualified signature a few times, choose a qualified electronic signature with a 1 month validity period from Autenti.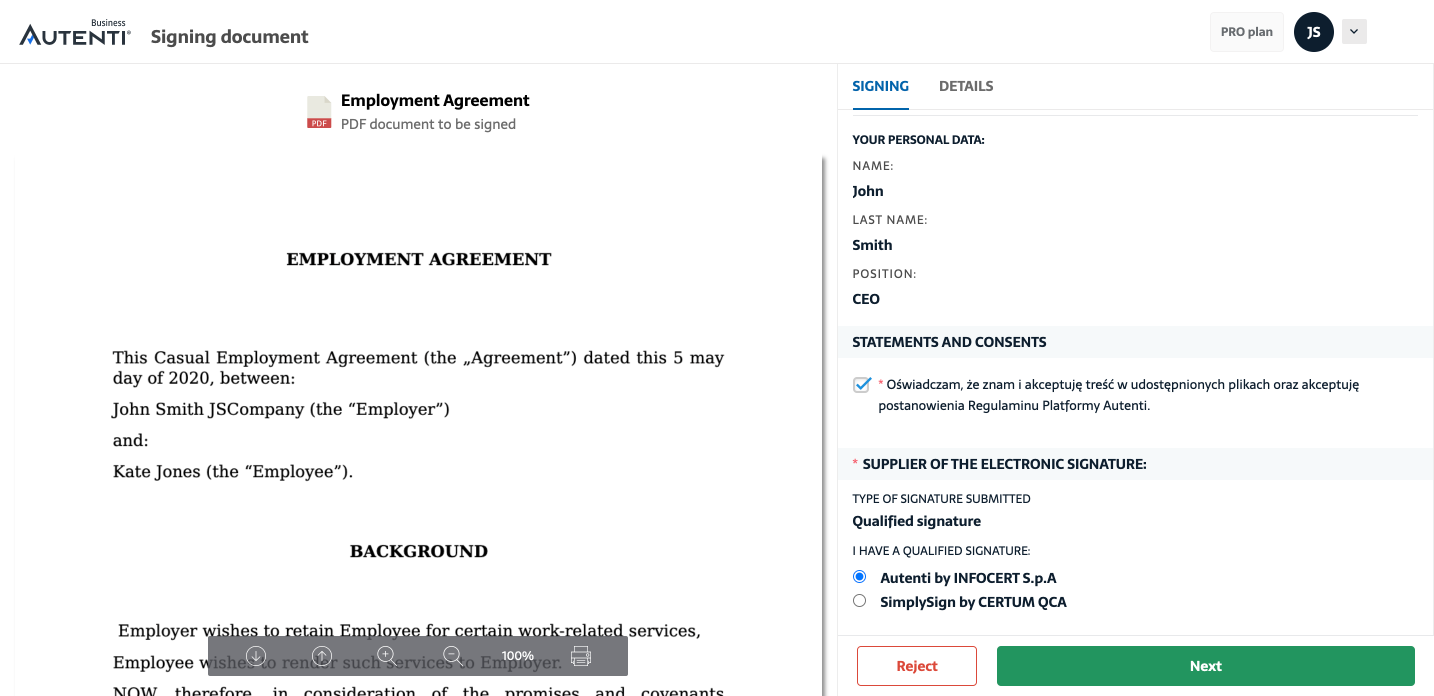 What is this functionality for?
A short-term qualified electronic signature is a solution enabling effective signing of documents and contracts that should be signed by hand under law. The certificate is generated fully online, using proof of identity via video verification. It is available in a mobile version, eliminating the need for readers and cryptographic cards.
Documents can be signed anywhere and anytime using the Autenti platform. You can place your signature using any device with Internet access: computer, tablet, or smartphone, without the need to install and configure additional software.
Your benefits
A qualified electronic signature as legally effective as a handwritten signature.

The highest level of identification of the signers.

Adhere to the written form requirements.

Sign any type of document remotely.

100% online, in as little as 15 minutes.

Use it on the Autenti platform, enabling fast and effective document circulation, archiving, and with a guarantee of evidential value.

Save the costs of obtaining long-term qualified electronic signatures.
How does it work?
Obtaining a short-term qualified electronic signature takes place without leaving your home or office. The procedure for issuing the certificate takes approx. 15 minutes and takes place online - during this time, the indicated person obtains a short-term qualified electronic signature with which they can immediately sign the relevant contract.
There are two ways to create a signature:
When signing a document on the Autenti platform, where a qualified signature has been indicated as the required signature type, the button "I want to receive a qualified signature" will appear.
By contacting an Autenti representative.
Find out about the most important differences between a short-term qualified electronic signature offered by Autenti and a long-term qualified electronic signature.
Short-term qualified electronic signature

Qualified, so-called "long-term", electronic signature

Cost of purchase

Low

from 79 zł netto

Moderate

above 290 zł netto

Ready to use immediately after release, in the same process

Yes

Yes

Period of validity

1 month

1, 2 or 3 years

Number of possible uses

up to 10 times

unlimited
within the time limit

The legal effect is equal to a handwritten signature

Yes

Yes

Compliance with regulations

Yes

(eIDAS of 23 July 2014)

Yes

(eIDAS of 23 July 2014)

How to obtain

Remote

Remote
These

functionalities

may

interest

you

:
Start signing documents without
leaving your home for
free
one platform, many applications
all forms of electronic signatures
economy, speed and comfort
customer satisfaction guarantee